Concert and Cocktail
On Wednesday, September 21, 2022
Ravel hall in Levallois-Perret
This year, for the first time, we organized a concert with renowned opera singers. Project born in 2020 from a meeting with Guillaume Dussau at the market of Levallois-Perret - Bet that seemed unattainable and that, thanks to Guillaume and his friends singers, with the help of the city hall which gave us free access to the theater, and finally with the support of SAP and partners, we were able to organize this evening, gather some 290 people and collect more than 15,000 € in order to support the research on pediatric cancers

Volunteers artists with a big heart:
Guillaume Dussau : Bass
Marjorie Muray – Motte : Soprano
Yana Boukoff : Mezzo
Juan Noval-Moro : Tenor
Sylvie Barret Nagrodski Pianist
We thank them for their participation. 
The city of Levallois-Perret and its employees have been supporting Marie notre Etoile since the beginning. This year, the town hall provides us with the Ravel hall free of charge for the benefit of the association. 
They had joined us, making the event possible...
What a great evening last night! Bravo for your energy and for the organization...
We were unanimous in our praise of the concert and the exchange with the artists during the cocktail party. Thank you again!
€15,000 raised and entirely allocated to research programs, managed with the association Imagine for Margo
During the SAP France Partner Summit on Thursday February 10th, Gérald KARSENTI, President of SAP France, presented the event to all the partners, with the support of the whole executive committee of SAP France to Marie Notre Etoile.
Des post sur Linkedin ...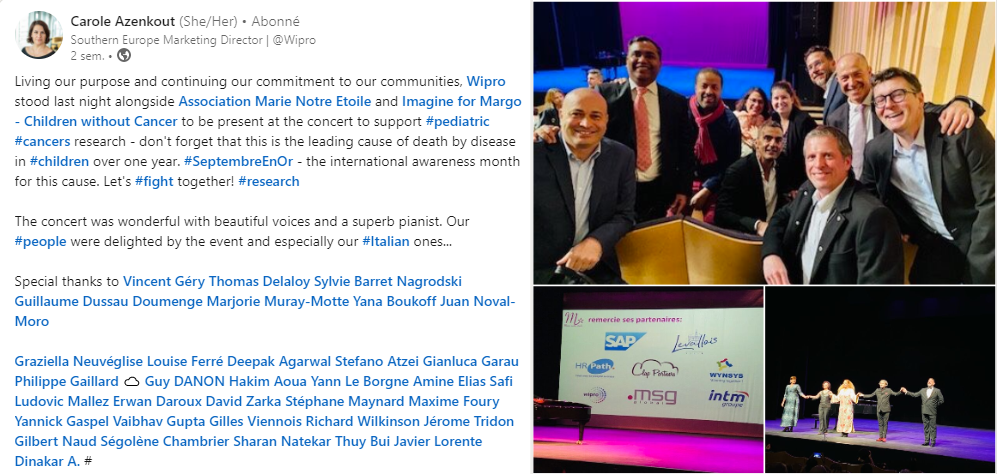 See you again
All
next year !!!